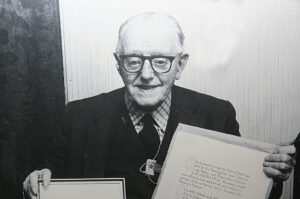 The late Harold Lanman (1893-1979) was a long established dealer of antiques in Framlingham. In the 1930s, he started collecting local artefacts and in 1953 held an exhibition of old photographs and artefacts in the Assembly Rooms. As a result of that exhibition, the first constitution for the Framlingham & District Local History & Preservation Society was drawn up in 1956. The first museum was opened in premises on the Market Hill in 1957, before later moving to Double Street. A separate Trust was set up for the museum in 1978, followed by a move to the old Court House building in Bridge Street in 1979 when it was renamed The Lanman Museum-at-the-Courtroom, but sadly Harold died a few weeks before the official opening.
The Lanman Museum continues as a separate charity and is now found on the first floor of Framlingham Castle.
The original collection covered the late Victorian to Edwardian periods but it has since grown backwards to medieval times and forward to World War II. We are always looking to expand the collection – history is an ongoing process!
The collection policy is that all artefacts come from an area within a five mile radius of Framlingham and notably the collection includes the entire Framlingham Weekly News which was published every Saturday from 1859 to 1938. The edition on display is changed frequently. The adverts in particular make fascinating reading as many of the shops are still in the town.
Utilising grants from the Victoria & Albert Museum and the Headley Trust we have purchased medieval gold jewellery found locally. This is now displayed in the museum, which also houses two impressive Faberge objects given to Sir Henry Thompson, surgeon to Queen Victoria. The dinner guest list from one of the doctor's dinner parties is not only signed by George V but also by Sir Arthur Conan Doyle, the creator Sherlock of Holmes.
Other interesting displays include a funeral bier, traps (for both humans and animals), old shop displays and tools relating to trades in Framlingham that no longer exist such as shoe making. We are building up a clock collection as clock making was once a major business in Fram and any information about this would be most welcome. The photograph collection is vast, including a set of local pictures taken by John Self on glass. The glass plates cannot be displayed for conservation reasons but copies show town life at the turn of the last century. It is great fun trying to identify both people and places and many people have identified their relatives.