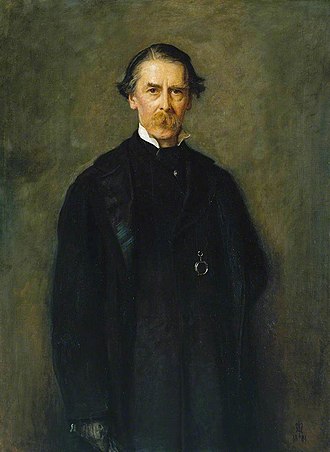 Sir Henry Thompson was born in 1820, the son of a tallow chandler (the parents had a shop on the site of the former Potters showroom on Market Hill, just up from the alleyway leading to the Co-op store). The Thompsons were keen Baptists and frowned on their son's wish to go into a profession. Henry Thompson left Framlingham in about 1840 and became apprenticed to a doctor in Croydon, Surrey.
After a few months he went to study at University College, London, from which he graduated brilliantly in chemistry, anatomy and surgery. He became an authority on anything to do with the bowels and wrote a number of treatises on the subject. In 1863 he was operating on King Leopold of the Belgians, then on Napoleon III of France. He became a surgeon to Queen Victoria for which he was knighted. He was also a surgeon to the future Queen Alexandra, wife of Edward VII.
He founded the Cremation Society in 1874 and saw a bill through Parliament to that effect in 1902. He was a gifted artist and exhibited twice in the Paris Salon and 13 times in the British Academy. He wrote two novels. He invented a very superior telescope which was much admired by the astronomers of the day. He lived at 35 Wimpole Street, London, where he entertained lavishly. He did not forget his parents because he left the clock on the church tower in memory of his father in 1872. He died in 1904.
Two Faberge items, a seal and a wick holder, were given to Sir Henry by the Prince of Wales (later King Edward VII) and the Princess of Wales, and illustrated below. These and other items relating to Sir Henry are now in the Lanman collection.
This note originally provided by Andrew Lovejoy.
More information on Sir Henry Thompson can be found on Wikipedia.